December 07, 2018
Clare Griffin demonstrates how a clear and integrated purpose and the right strategic priorities have proved key to embedding sustainability at GSK. GSK is a global healthcare company that researches, manufactures and sells innovative medicines, vaccines and consumer healthcare products.
New leader, new strategy
In autumn 2016 Emma Walmsley was named as GSK's next CEO.  In the five months before stepping into the role, Emma spent time talking with and gathering insights from a wide range of internal and external stakeholders, including employees and investors, understanding what they believed mattered most for the company's future success.
This informed one of her first acts as new CEO, to ensure that GSK's purpose, to help people do more, feel better, live longer, remained at the heart of our newly defined strategy. This strategy is to bring differentiated, high-quality and needed healthcare products to as many people as possible, with our three global businesses, scientific and technical know-how, and talented people.
Emma also set three long term business priorities of Innovation, Performance and Trust for everyone at GSK, which together support the delivery of this strategy. These are not loose concepts, but clearly defined priorities which set out what the company will focus on in order to sustain and grow its market leadership over the long-term, for the benefit of both society and shareholders.
Prioritising Innovation speaks to generating needed scientific breakthroughs in healthcare, which is our number one source of long-term growth and social impact. Performance links to remaining commercially competitive, so that we can continue reaching millions of patients and consumers with our products around the world, delivering shareholder returns and funding our innovation. And Trust is about running our business in the right way, whether that's for our customers, employees or society at large, from ensuring the reliable supply of our products, to researching new treatments for diseases that disproportionately impact the world's poorest communities.
Globally integrated
With everyone working on these priorities, in support of delivering our purpose, we have more opportunity than ever to harness the cumulative power of 100,000 employees and 3 global businesses for social impact. This shows up in some tangible ways across our business. All employees' annual objectives now directly contribute to some or all three of Innovation, Performance and Trust. Leaders running large areas of the business report upwards monthly on how their organisation is delivering against each of these priorities. Board and executive team meeting agendas are anchored around strategic opportunities and challenges aligned to the three priorities. And all communications and engagement activities, whether with employees, the media, policy makers or investors, emphasise progress with delivering the priorities, in pursuit of purpose.
Prioritised for impact
Our purpose, strategy and priorities have also shaped our updated responsible business approach. We are seeking to do fewer things better, for greatest possible long-term impact in improving health around the world. We have shifted from 23 forward-looking responsible business commitments to 13, prioritised in 3 areas.
Firstly, using our science and technology to find new ways to address health needs globally, especially in developing countries. Secondly, ensuring our three global businesses are making our products as affordable and available as possible around the world. And thirdly, as a modern employer, fostering a healthy, inclusive and enriching working environment for our 100,000 people.
That is supported by continued commitment to the fundamentals of being a responsible business, from delivering a reliable supply of high quality products, to protecting a values-driven culture, being transparent with our science and our data, and finding ways to reduce our environmental impact.
Taking this approach ensures we are focusing on our areas of strength, as a science-led, global, healthcare business, so that we have the best chance of making a lasting difference in the areas that matter most to our stakeholders. It also ensures our commitments are achievable and sustainable – they are reinforced by our company strategy, owned by business leaders, and built into forward looking financial plans.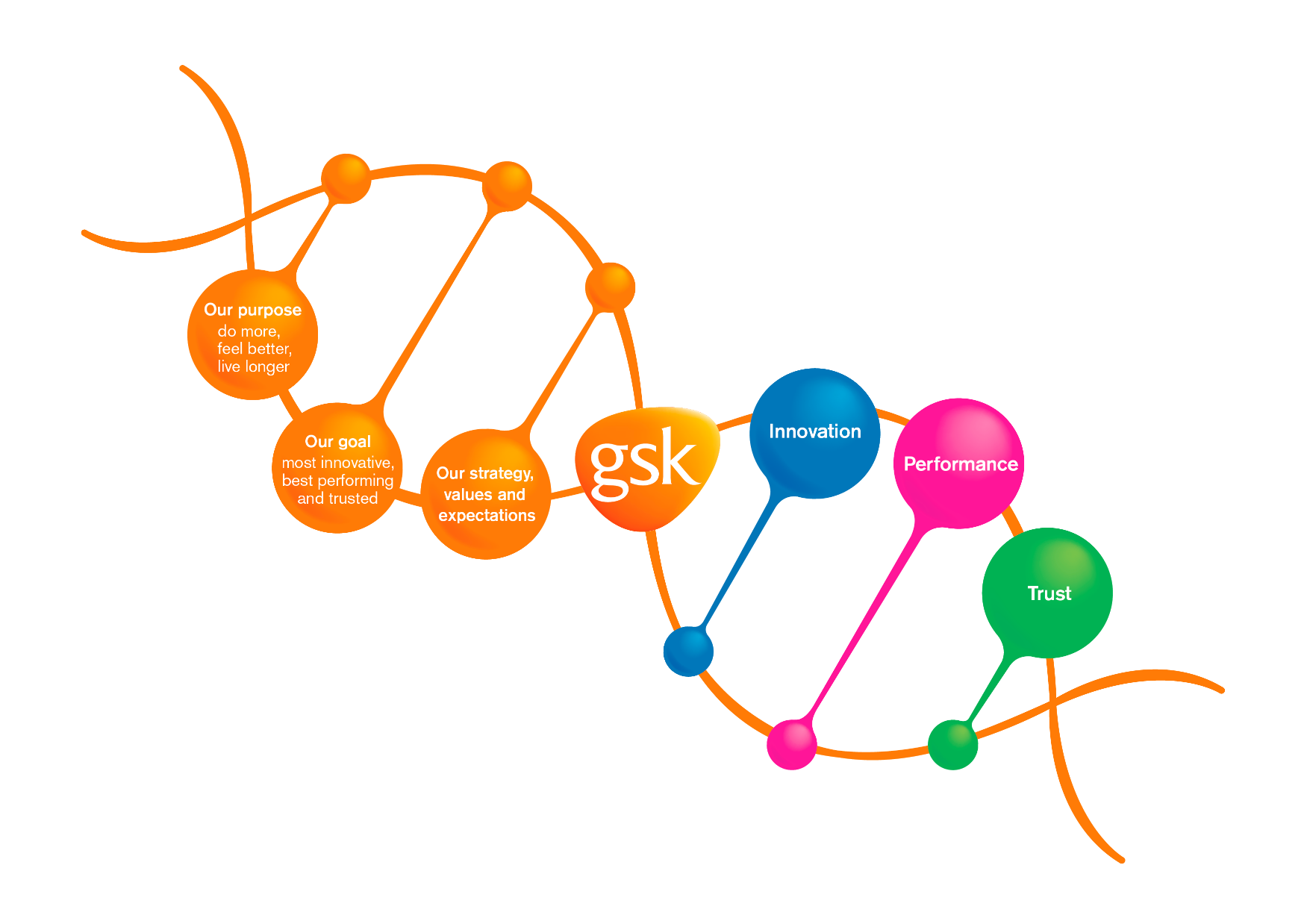 Business Benefits
Embedding our Innovation, Performance and Trust priorities across our business has emphasised that addressing societal issues is not just the responsible thing to do, it also directly and indirectly generates business benefits. An example would be linked to our work in global health. Developing a new medicine for treating p-vivax malaria has been rewarded by the US regulator with a voucher permitting us to speed up their review of another medicine in our pipeline. This has the knock-on associated benefit of getting one of our products to market more quickly. We also know that our strong commitment to global health matters a great deal from the perspective of attracting and retaining talent.
It's very motivating for me to know that from our leadership teams to the front lines of the business, delivering against our purpose, through Innovation, Performance and Trust, matters more than ever. It's embedded in what we prioritise in strategic planning and seen as a critical factor in our long-term success.
We are at the start of a new phase for responsible business at GSK, one that is much more closely aligned with our purpose and strategy. Our critical opportunity now will be to show we can deliver on our commitments and to look beyond what we can achieve as a business in isolation to a stronger focus on cross-sector collaboration for system change. Whether across the public and private sectors, or with Governments and NGOs, partnerships will be essential to finding new, sustainable solutions to the world's biggest challenges in healthcare and achieving the 2030 agenda for Sustainable Development.
Clare Griffin is head of the responsible business team at GSK.